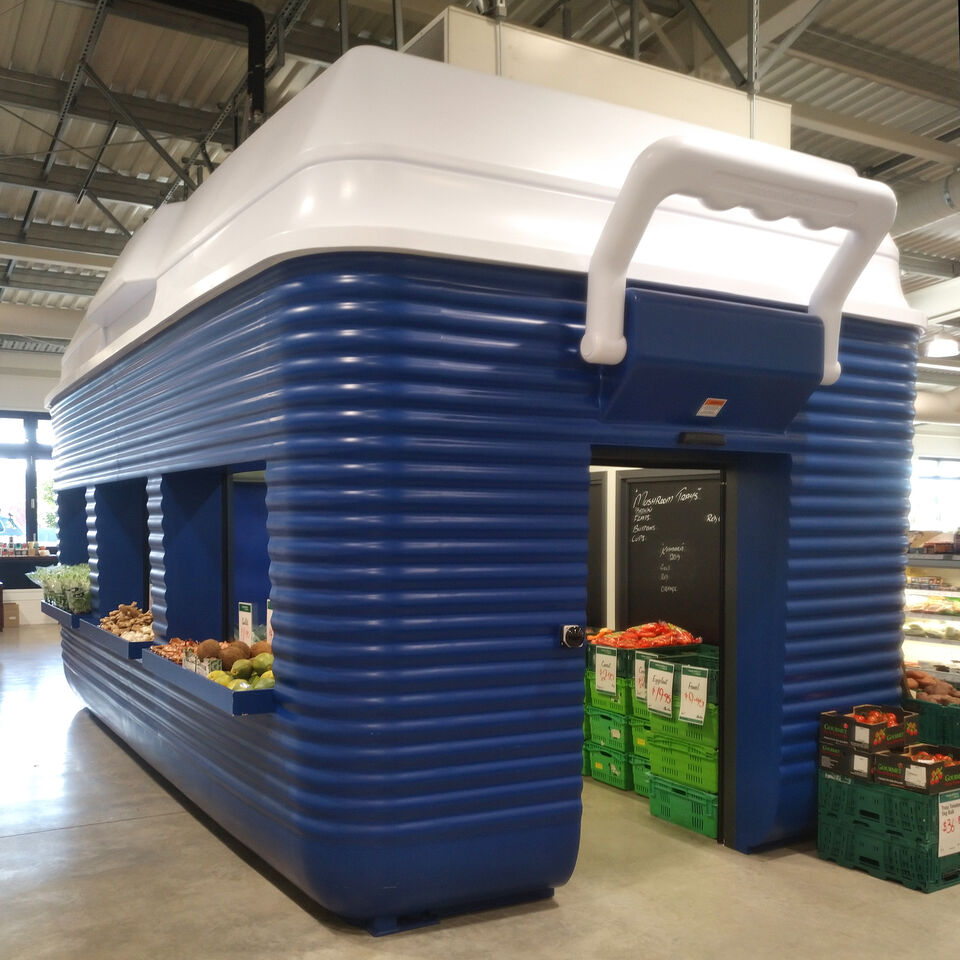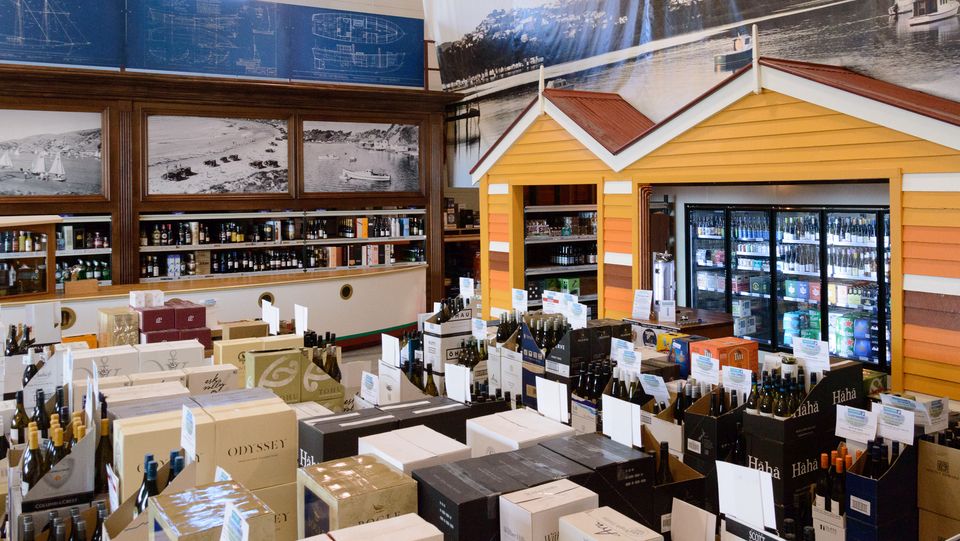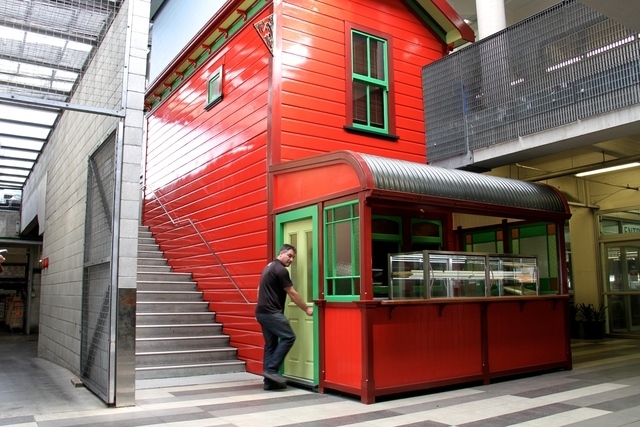 Moore Wilsons is a specialist grocer chain located in Wellington, New Zealand. Human Dynamo has completed many iconic projects with Moore Wilsons over the years.
Chilly Bin

2021
This project dresses the chiller room in the new Masterton store as a bigature model chilly bin to make the chiller room even more of a special feature of the store and one that instantly communicates its purpose in a visually rich way.
Human Dynamo designed and built an exterior skin for the chiller room that resembles a scaled up chilly bin.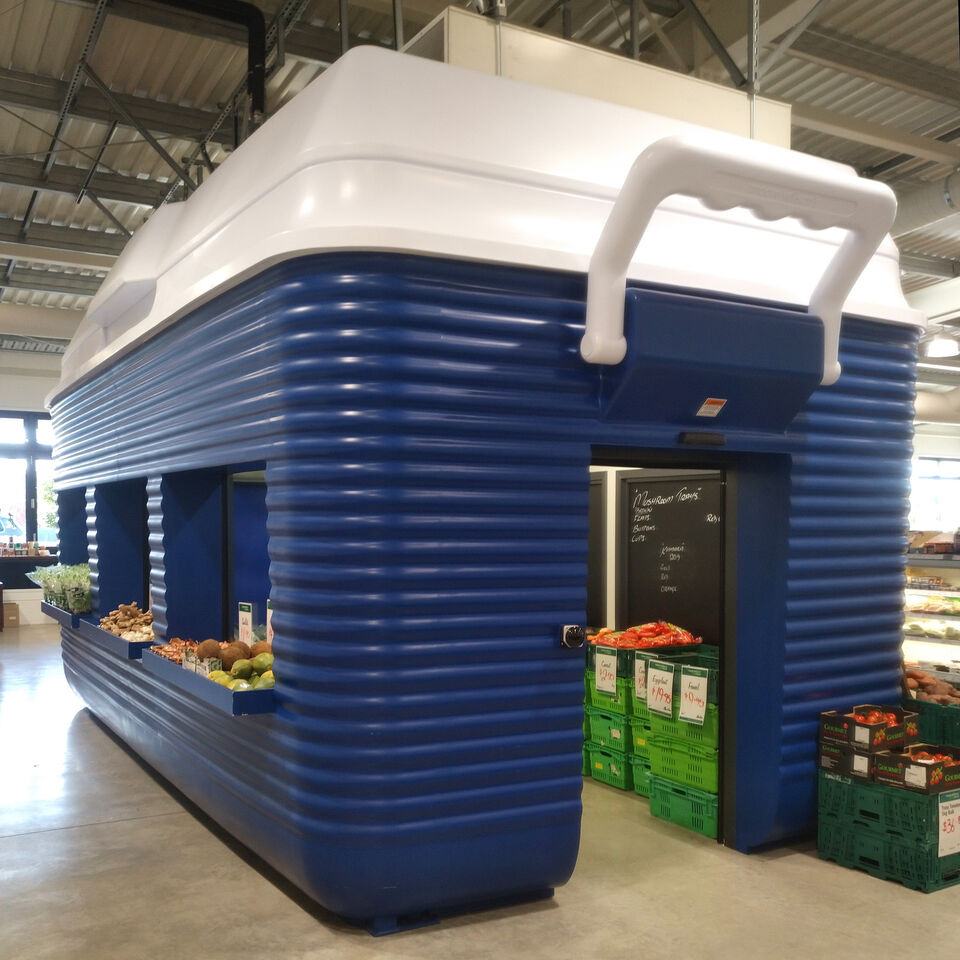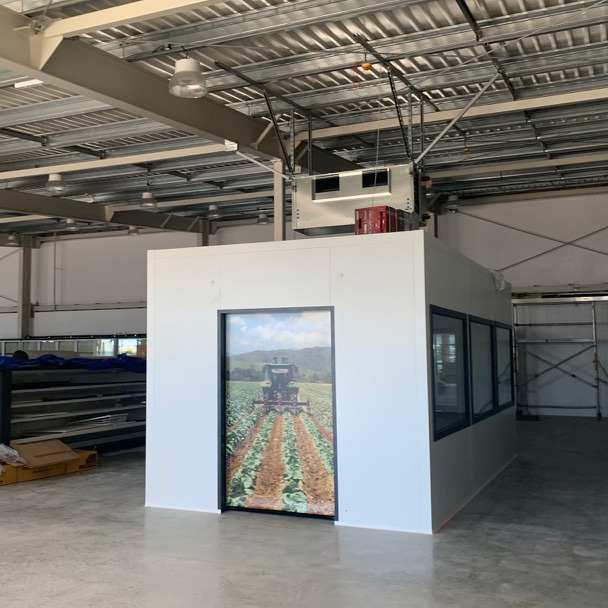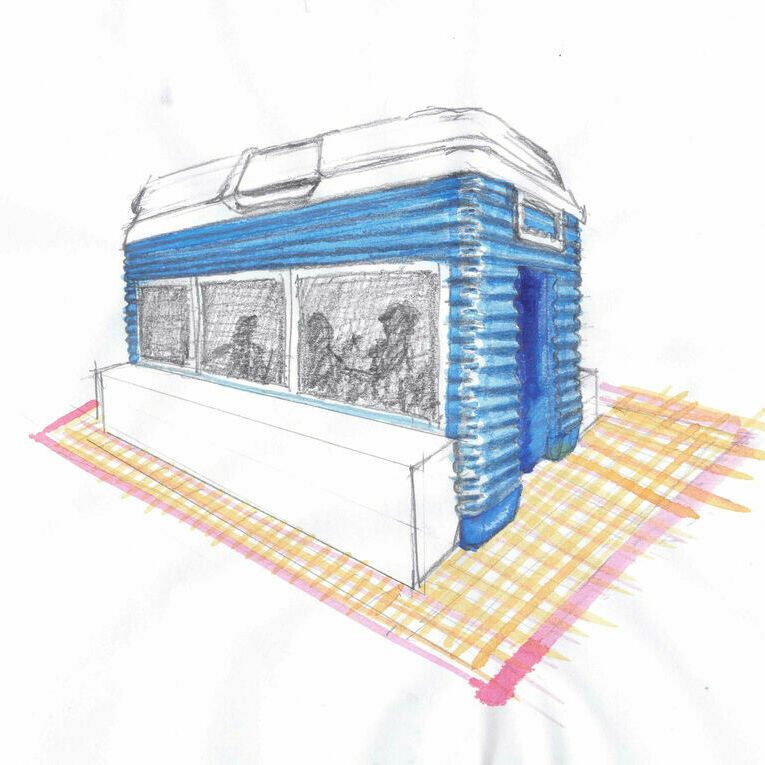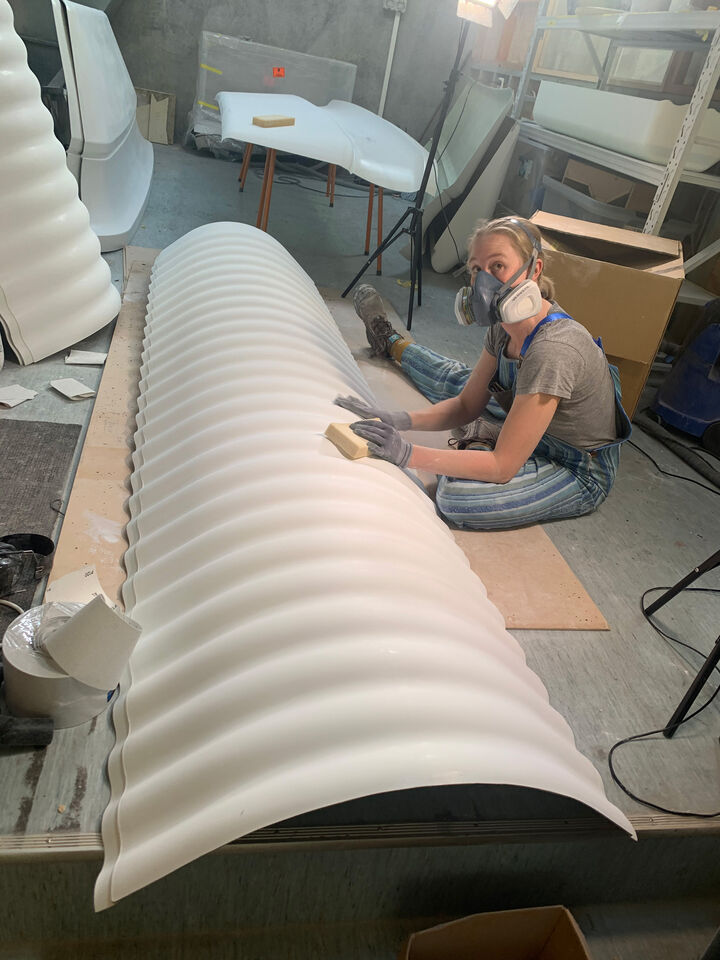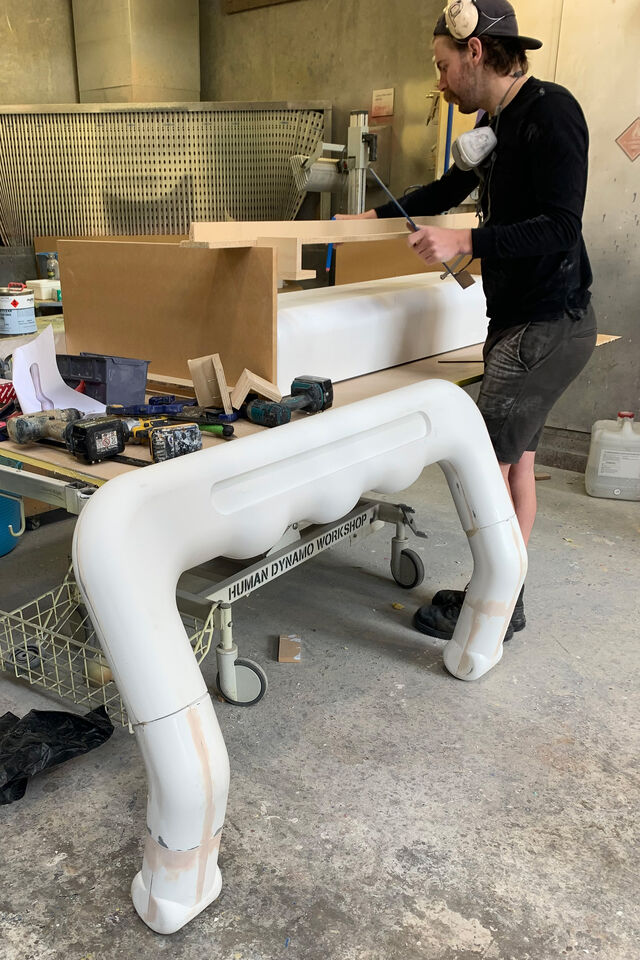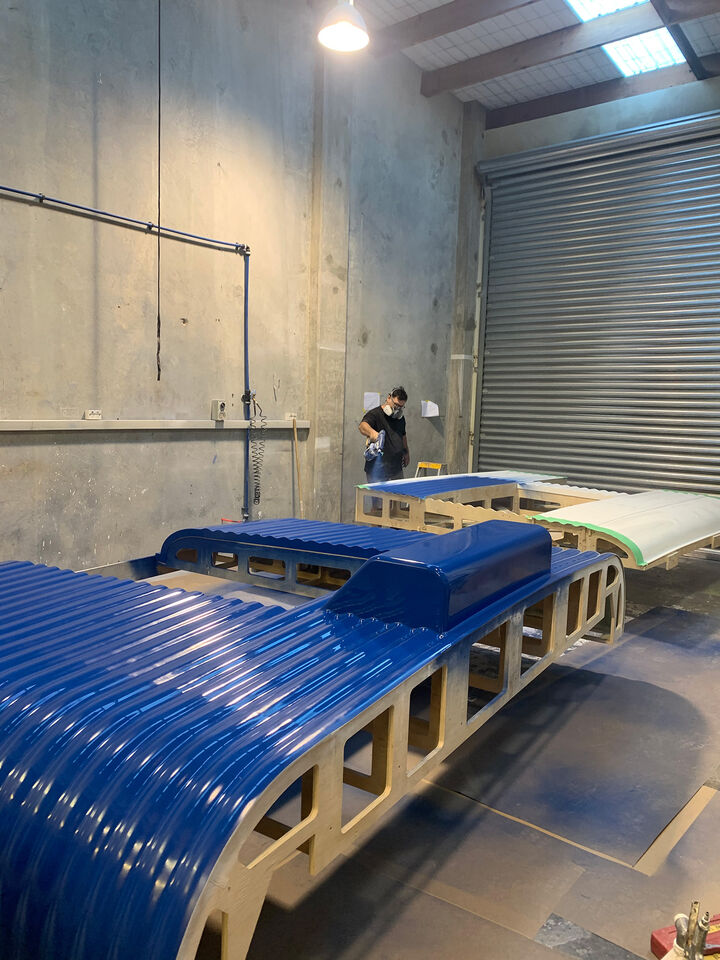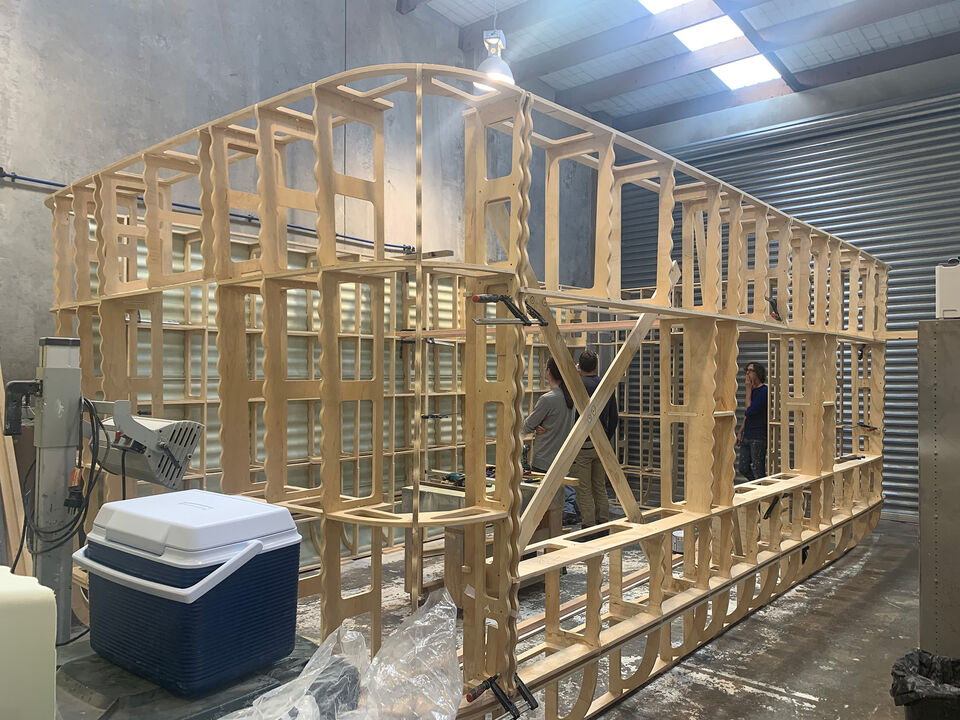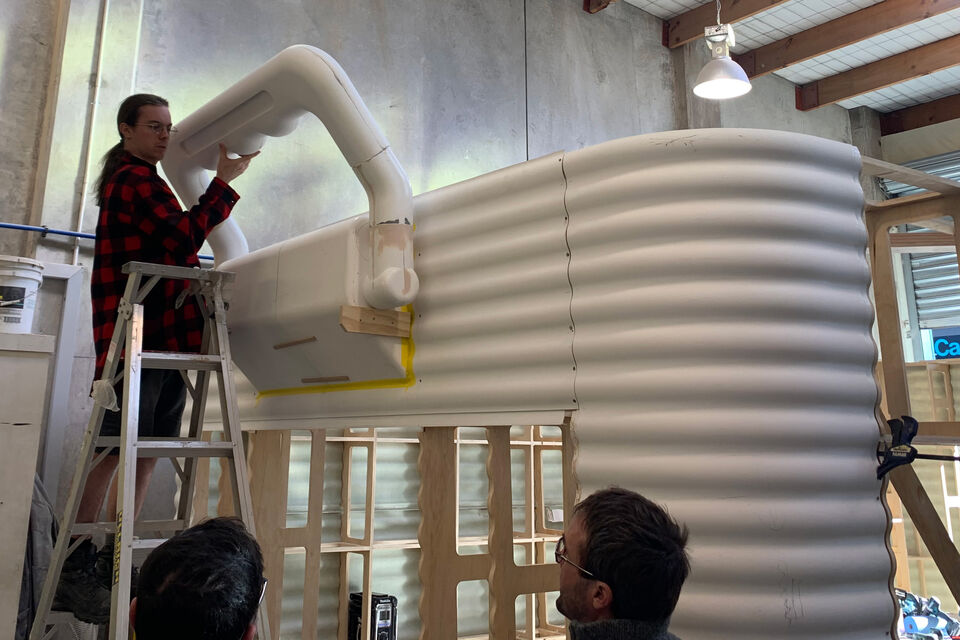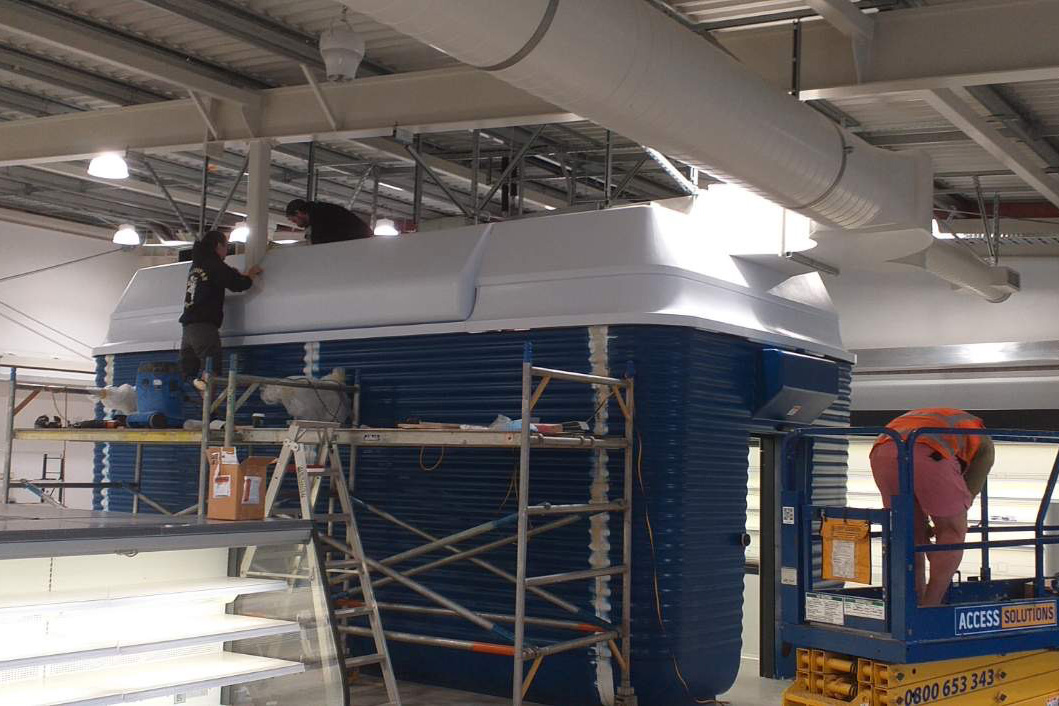 Installation on site
Beer & Spirits Store

2017
The brief sought to enliven the wine, beer, and spirits store located in nearby Porirua city with a nautical twist. Extensive research on marine imagery and dockside architectural motifs resulted in a spatial design solution that features custom built boat sheds, wall facades, wayfinding signage, furniture, and a point-of-sale counter styled as a vintage wooden launch.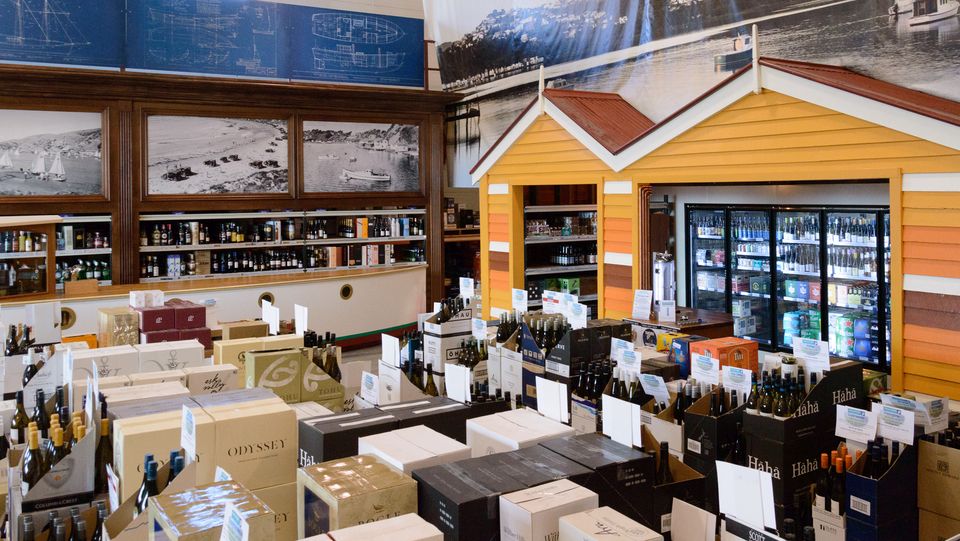 Computer aided design was integral in planning the layout, construction and colour scheming of all aspects the project.
The boatsheds were constructed using hand-joined recycled timber in our workshops, painted with Resene paints, and installed on-site.
A point of sale counter styled as a vintage 1920's launch, was designed with detailed research in mind, and constructed using aspects of traditional joinery, boat building techniques, and digital fabrication techniques.
In the background, a custom timber facade was digitally fabricated to imitate vintage carpentry and architecture, and frames a range of antique marine imagery sourced from Porirua and New Zealand photo archives.

The retail space is now fully operational and can be located at Kenepuru Drive, Porirua, New Zealand.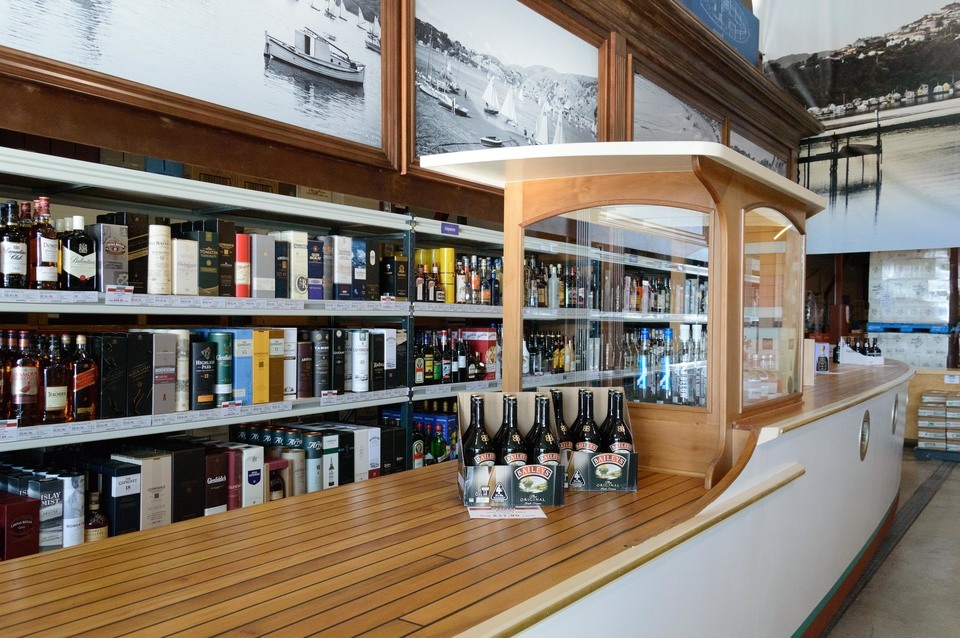 The vintage launch counter, fabricated using traditional joinery and digital fabrication techniques. The custom wall facade also features in the background, complete with locally sourced antique marine photography.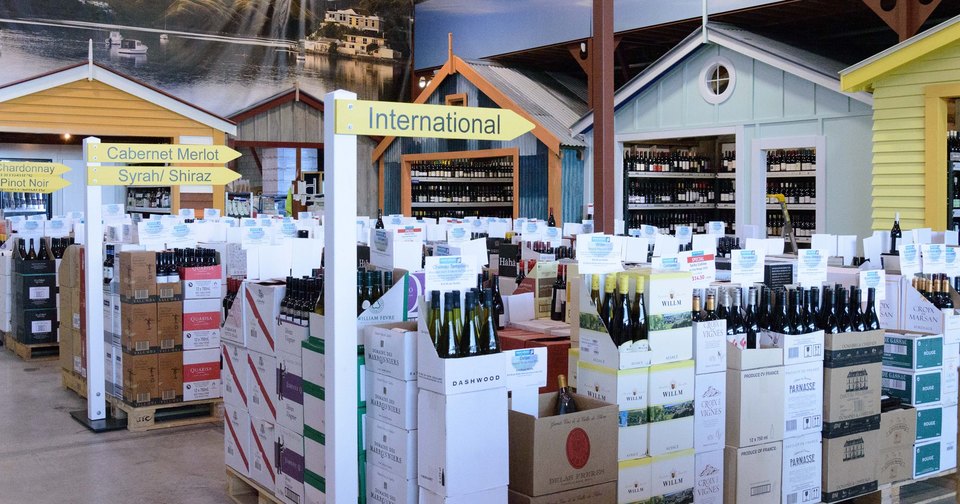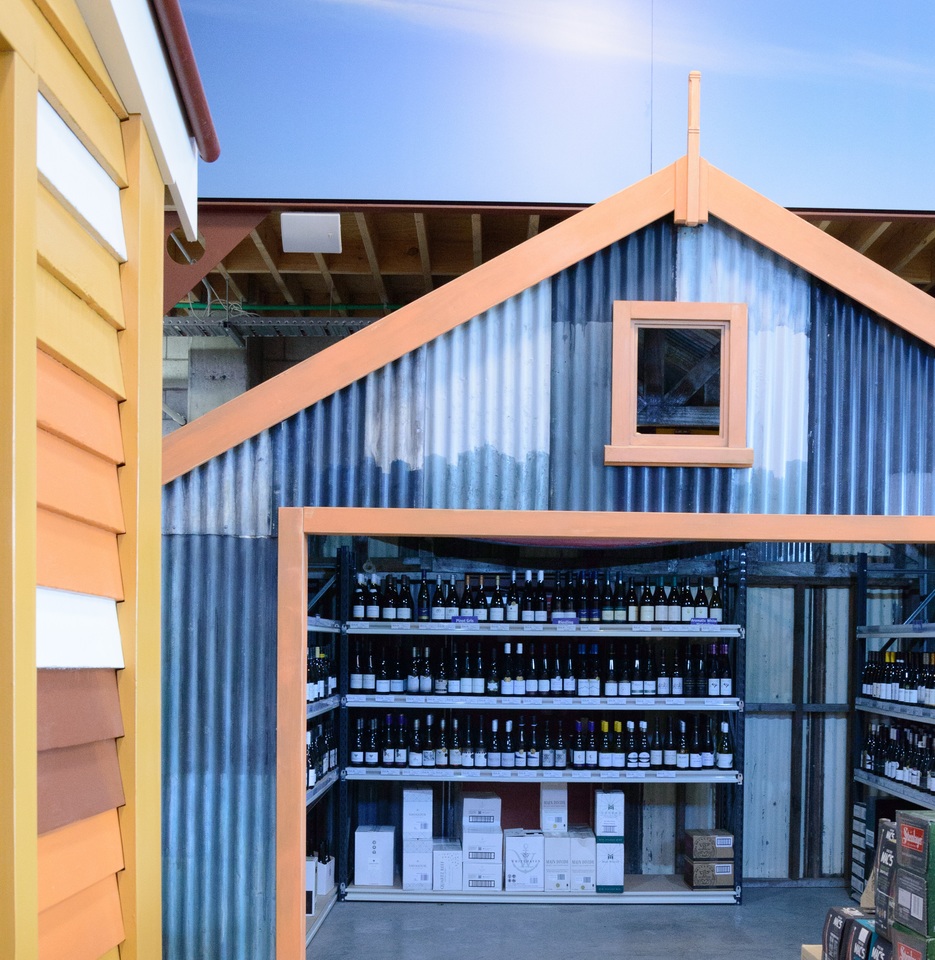 O'Sushi Wall

2017
A Japanese style painting of Mana Island by our art director Sue Dorrington, provides a stunning façade for the hole-in-the-wall food kiosk. The Porirua Moore Wilson's Sushi kiosk combines analog craft with digital fabrication.
"I wanted it to be relevant to Porirua as well as a reference to Japanese style brush work. Distant and expansive views coupled with intermittent rock pools create a sense of travel and changes of mood." - Sue Dorrington

The wall appears to be covered with handprinted tiles; However a lot of modern day technology has gone into the effective treatment. CNC routers engraved imitation tile grouting into sheets of Aluminium Composite Material (ACM), commonly used for outdoor signage and cladding. Ink Digital also provided the large scale printing capability on the ACM facade required to bring the mural to life.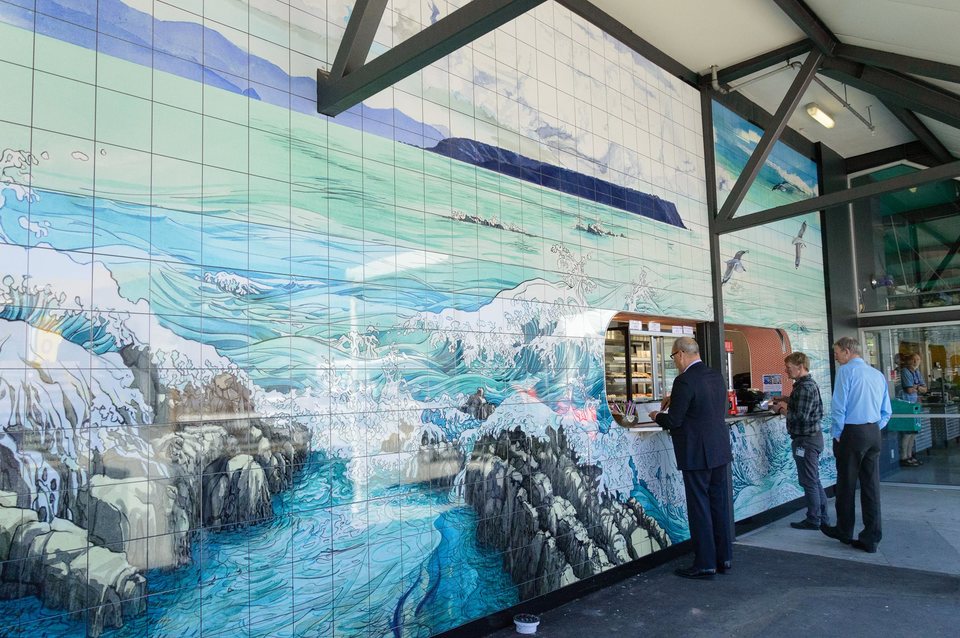 Moore Wilson's Sushi House

2014
The Sushi House at Moore Wilsons on Tory street is styled after worker's cottages that once proliferated around the area. The cottage facade wraps around two sides of the central lift shaft and functions as a small food shop, beautifying and activating the space.
We studied old photographs of these little cottages, which informed our design process. The cottage was designed using various computer aided design techniques, using the 3D model to manufacture CNC milled moulds to cast fiberglass components supported by a metal framework. Although the cottage looks like wood, it is mainly fibreglass. Human Dynamo designed, then pre-fabricated and painted the cottage in our workshop. It was installed over three nights for minimal disruption and an element of surprise for customers.
The Resene colour range was used to design the colourway of the cottage; special consideration was taken with regards to the colour scheme as they reference Japanese and Colonial heritage. Designed by our resident art director Sue Dorrington, the colour scheme won a Resene Total Colour Award.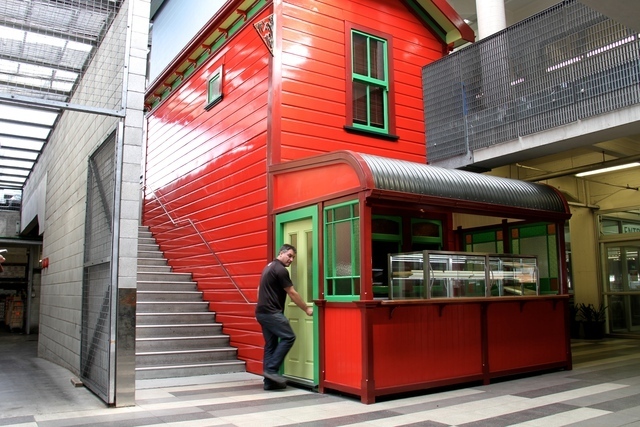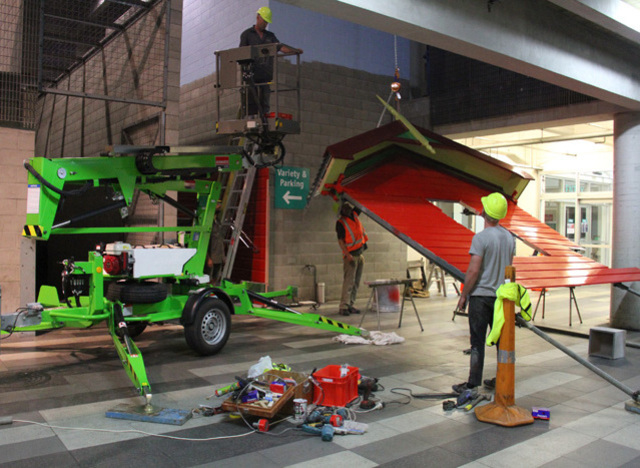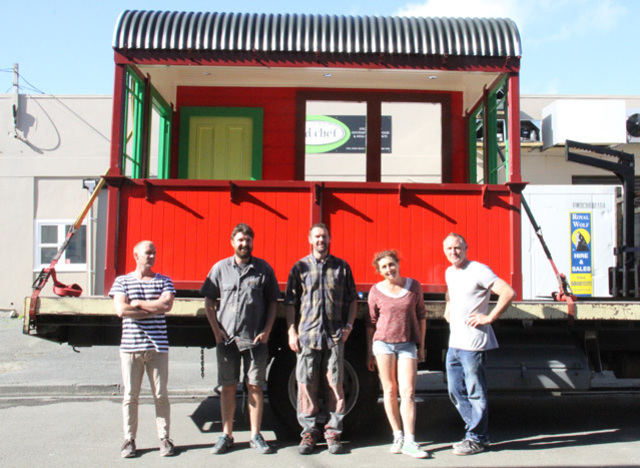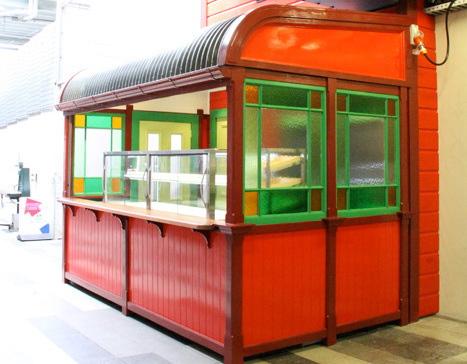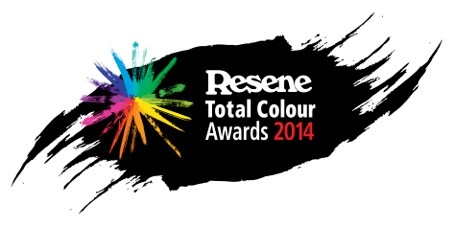 "My starting point was looking at and photographing the environment the installation was in at Moore Wilsons. It was very Grey. The feel was industrial and prone to a chilly breeze. Colours apart from Grey were the Brown Bronze of a nearby art work, and aqua Moore Wilson's signage.

One of the aims of the cottage concept was to intrigue, add a bit of fun and entertain Moore Wilson's customers. This was also a consideration in the design of the colour scheme. Feedback from our client has been, that the Sushi chefs are very busy and it feels as if the cottage has always been there. I like to think it has added a warm Heart to the store complex."
- Sue Dorrington

Moore Wilson's wanted a little piece of France in their carpark area. Their brief requested a vendor for Parisian style rotisserie chickens, using the 1947 Citroen Light Truck model as design inspiration. The design and build resulted in a faithful, French inspired Citroen replica with vintage dressings, detailing, sign work, as well as a fully functioning kitchen unit and food retail operation.
Alongside Moore Wilson's, close consultation with Napier food retail solutions company Future Products Group Limited, ensured a successful kitchen unit build and installation. Local refrigeration experts Below Zero were also involved handling the hidden ducting and extraction systems.